On February 6, 2013 President L. Rafael Reif announced his plans to launch an Institute-wide Task Force on the Future of MIT Education. On April 3, the Task Force working groups hold their opening session.
Structure
The Task Force is comprised of three working groups:
Working Group on MIT Education and Facilities for the Future
Working Group on the Future Global Implications of edX and the Opportunities It Creates
Working Group on a New Financial Model for Education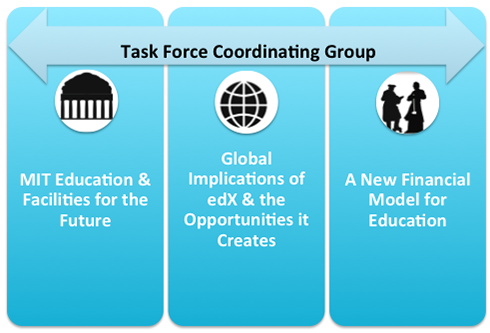 Working group membership includes faculty representing all five schools, staff and both undergraduate and graduate students, with approximately 50 individuals participating as members. The Task Force Coordinating Group is comprised of faculty, students and staff representing the three working groups, and is designed to provide connectivity across the groups. Task Force Advisory Groups are also being formed to provide insights and recommendations as the Task Force performs its work.
Charge
The overall charge to the group is to:
Propose an "ecosystem" for ongoing research, learning and innovation about the future of education.
Recommend a range of possible experiments and pilot projects that will allow us to explore the future of MIT education:

On our own campus, in ways that incorporate online learning tools to the fullest extent while maximizing the value of face-to-face learning for both faculty and students.
Beyond our campus, through which learners around the world could benefit from important aspects of MIT's educational content, vision and value

Evaluate the future strength and sustainability of MIT's current financial model in this evolving context and propose alternative or complementary approaches.
Develop a roadmap that will describe the work streams and the phases of work necessary to enable this ecosystem and implement these experiments.  
Timeline

President Reif has asked the Task Force to complete a preliminary report of initial findings this coming fall, with a final report targeted for spring 2014.
Community Engagement
"In the best tradition of MIT, it is vital that we use this Task Force to expand discussion of these complex, critical issues to include all members of our community." – L. Rafael Reif
Please join the conversation!
Press inquiries should be directed to Kimberly Allen (allenkc@mit.edu, 617-253-2702) in the MIT News Office.